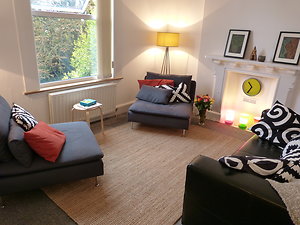 My Professional Qualifications, Counselling Experience, Specialist Area, CPD, Personal Approach.




My Professional Qualifications


Honours degree in Psychology: BSc (Hons) Psych (Open) - The Open University

Diploma CPCAB Level 4: Therapeutic Counselling (Integrative)

Diploma CPCAB Level 5: Cognitive Behaviour Therapy (CBT)

Certificate CPCAB Level 6: Certificate in Counselling Supervision





Professional Membership

Register for British Association of Counsellors & Psychotherapists (BACP).
This Register via BACP is accredited by Professional Standards Authority (PSA).

Member of BACP - British Association of Counsellors & Psychotherapists) (MBACP)

Member of NCPS - National Counselling & Psychotherapy Society

Student Member of The National Council Of Integrative Psychotherapists

Counselling Experience

3 years' counselling work in addiction (alcohol and drugs) at Rise in Ealing W5, a government funded programme. (Please note I unfortunately cannot see current users in private therapy as I cannot not provide monitoring facilities more available at substance misuse agencies eg Rise Ealing and but will be happy to help assess and refer you).

5 years' voluntary work experience in counselling common mental health problems with Phoenix Counselling - in Feltham.

5 Years' experience of trauma focused work (long and short-term impact work).

Some voluntary work experience hours and Play Therapy training in counselling children with Phoenix Counselling - in Feltham.

2013 to-date Associate Counsellor on EAP (Employee Assistant Programme) for an NHS Counselling provider.

September 2016 to October 2021 Clinical Supervisor for Qualified and Trainee Counsellors' work within a Domestic Violence organization see below - in Uxbridge.

September 2016 October 2021 worked as volunteer Counsellor on a Change Behaviour Programme (Domestic Violence Intervention Programme) for men and women who use intimate partner violence and would like to address and change any of these behaviours they no longer wish to retain - at a Domestic Violence Organization in Uxbridge.

June 2018 to date Approved Anxiety UK CBT Therapist. Working with Anxiety and Depression, Social Anxiety disorder, PTSD (Post Traumatic Stress Disorder), Generalised Anxiety Disorder, Phobias, Stress, Obsessive Compulsive Disorder, Panic Disorder, Phobias, Agoraphobia, Health Anxiety.


Specialist Area in Counselling

Cognitive Behaviour Therapy

I specialise in CBT (Cognitive Behaviour Therapy).

For beneficial therapy outcome the number of CBT sessions taken will depend upon individual needs. However an initial 6 sessions are recommended for positive changes to take place and then to continue on an ongoing basis as required. This CBT approach requires tasks which I will introduce to give you tools to, for example manage anxiety or depression symptoms, work with negative thought processes, be in touch with feelings and behavioural patterns to help make positive life changes.



Specialist Area Experience

I have 5 years + experience of CBT (Cognitive Behaviour Therapy). As my approach is integrative (meaning I can use different approaches, according to your individual needs) I also incorporate CBT with other therapies such as Person Centred, Gestalt, Psychodynamic, Existential, Transpersonal Psychology, Transactional Analysis. Within CBT I also include the use of techniques from Wellbeing and Mindfulness by practicing with you mindfulness exercises, relaxation techniques, meditation, visualization and other creative techniques to help develop self-awareness.

These techniques can then become your tools that you take with you to use independently from the counselling space that can empower and enhance your life.

CBT can be described as follows:

Lowers anxiety and depression to a manageable level.
Identifies and challenge unhelpful thoughts and feelings,
Links unhelpful thoughts and feelings to negative behaviour patterns and thinking to make them positive.
It is psychoeducational and psychotherapeutic.
A goal-orientated therapy and aims to help you reach your goal.
Works primarily on current problems and symptoms
It can also work with thoughts and feelings from recent past or childhood.


CBT can be helpful to work with a variety of issues including:

Eating disorders.
Learn practical self-help strategies.
Make negative thoughts positive.
Panic attacks.
PTSD (Post Traumatic Stress Disorder)
OCD (Obsessive Compulsive Disorder)
Generalised Anxiety Disorder.
Agoraphobia
Health Anxiety.
Phobias.
Social media.
Stress.
Substance misuse addictions such as alcohol and smoking.
Relationship problems (workplace / personal)



Supervision for trainee and qualified Counsellors

I am a qualified Supervisor who can supervise Counsellors (in training and qualified) - please contact me for further information.



CPD (Continued Professional Development)

I continue my CPD remaining updated with my therapeutic skills, to continue my personal ethic to keep you, the client, at centre focus. Examples of CPD: Substance misuse (alcohol, drugs) workshops, conferences on updated law affecting Coercive Control (emotional, including physical abuse) in relationships, CBT (Cognitive Behaviour Therapy) workshops, BACP workshops, keeping updated on relevant research via BACP membership.



My Personal Approach

I work with compassion, understanding, humility and integrity. I fundamentally believe in the strength that is in all of us, sometimes hidden needing recovery.

My commitment is to be with your ups and downs at your pace, until that strength is found again.

I work with the therapeutic relationship from a humanistic view of the world to really connect with and hear what happens in your session and so be with what is happening in your life now.

My counselling work is important to me and I feel the reward with you in therapy when you see a positive shift for you. I show and communicate empathy, providing that unconditional space so you are heard, that may be missing from your life.

I offer a confidential space in line with BACP ethical guidelines for Counselling and will advise the exceptions to confidentiality that currently exist. Therefore, you will have the opportunity to open up about your issues safely.